Jumping Spider
The jumping spider is from the family Salticidae, in the order Araneae, and in the class Arachnida. The name jumping spider really refers to almost any group of hunting spiders that can jump or leap anywhere from 10 to 40 times their own body length.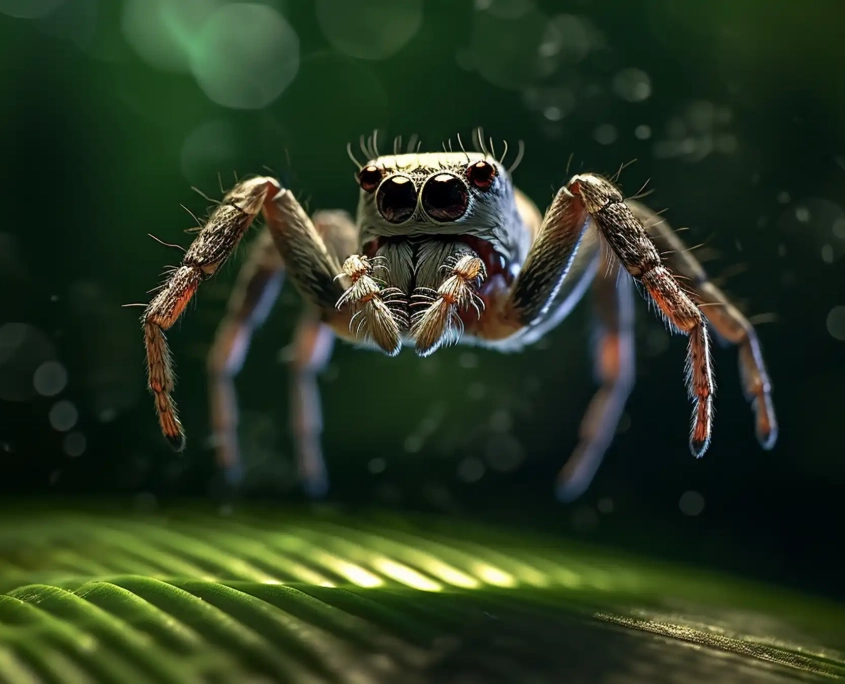 Depending on the specie, the spider will either jump or walk. There are around 4,000 described species for the jumping spider alone, making it the largest of all other spider species. More than 300 of those species are found in the United States, and about 75 species are found in Europe.
The jumping spider averages about 2 cm in length; the female spider is typically larger than the male. The jumping spider is also well known for its appearance; they are easily spotted. Jumping spiders generally are brightly colored, have very outstanding patterns, and are also hairy and sometimes stocky.
Altogether, this spider has four pairs of eyes, two of which give it an extremely sharp vision that allows it to see better than almost any animal the same size. All of the jumping spider's eyes allow it to have 360-degree eyesight. On top of that, the jumping spider also can turn its breast around 45 degrees.
Jumping Spiders found in..
The jumping spider is typically found in tropical regions. The tropical regions they are found in are very different, from the rainforest to the Himalayas. The jumping spider can be found anywhere in these climates. If it's day, the spider can be found on the ground, rocks, grass, or trees. At night or if it rains, the jumping spider will hide under rocks or a small web.
Because of the jumping spider's good eyesight, their prey can be noticed anywhere from 30 to 40 cm away. At this distance, the jumping spider scans their prey; their eyesight is similar to that of a zoom lens on a camera.
The jumping spider will move closer when the prey is registered as eatable. The jumping spider even catches prey much bigger than its own size. The jumping spider does not use webs to catch its prey, but they attach a line of silk to its prey in case they fall. When the jumping spider is near their prey, they jump or pounce on it.
Jumping Spider Bite
The jumping spider is often mistaken for dangerous, but they are not. The jumping spider is not poisonous to humans. Like a wolf spider, the jumping spider typically does not attack humans unless they feel threatened or in danger.
A jumping spider bite may be hazardous if the person bitten is allergic to spider venom. Because of that, it is extremely important to consult medical attention when bitten by a spider, especially if the spider is unidentified.