Spider Bite Video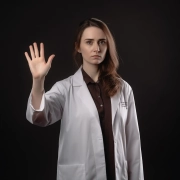 Warning: This is a very disturbing Spider Bite Video and may cause those with weak stomachs to vomit! It is a video of a young man bitten by a spider on the face and records himself as he squeezes the pus from the bite. There was sound with this video, but because it contained vulgarity, it was removed – this also improved video speed.
There is a lot of pus, and as I watched it, it sent chills down my spine. I highly recommend you not play the video if you don't like blood and pus!
This Spider Bite Video was posted to inform those of what can happen if you leave a spider bite untreated!
The whitish-yellow substance shown in this spider bite video (pus) is produced during the body's inflammatory responses. The pocket of pus shown in this video contains a protein-rich fluid, liquor puris, and dead neutrophils (white blood cells), which are part of the body's innate immune response.
Neutrophils move to the site of infection and engulf and kill bacteria. After it has killed a bacterium, the neutrophil dies and is what you see dripping out of the bite area.
Video may be Disturbing!
Again, this video of the spider bite may be disturbing!
Note: We removed this, just too disturbing. BUT, you can search for it here using the term Spider Bite Squeezed Pus.
If you have any comments, please share them below.