Giant Spider Webs
Entomologists worldwide are excited about a unique spider web that looks like something out of a movie. The web is so large that it covers several trees and surrounding plants at Lake Tawokoni State Park.
Donna Garde, state park superintendent, took the magnificent picture of the giant spider web below. Walking upon this site may scare many, and it's reported that some visitors fear that their small dogs may be webbed and consumed. 'Nothing could be further from the truth!' It is one of the best bug-free areas in the park, acting as a giant mosquito net.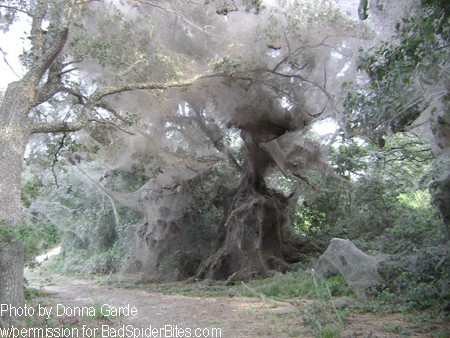 Although no one has given a definitive answer, many spider experts conclude that the 'stretch spiders', pictured below, are working together to form the massive web. Some say these webs happen every few years, while others say it is a rarity.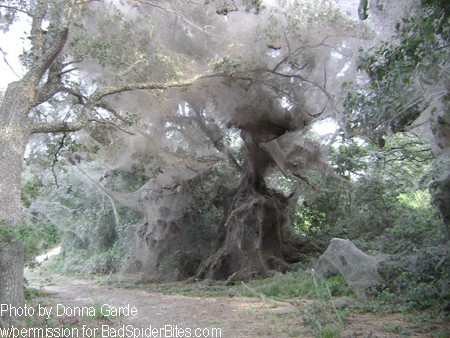 Stretch Spiders, or Tetragnatha, are found all over the world, although most occur in the tropics and subtropics. They obtain their name from the ability to stretch out and hide on a stick or blade of grass when in danger. These spiders are commonly found close to water and compose large webs. In the case of above, these spiders appear to be working together.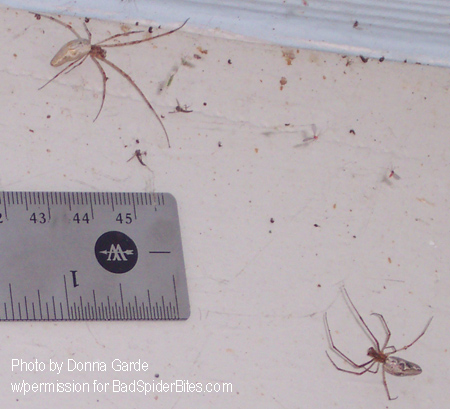 If you have seen spider webs like this in your area or have more information, please post for others to see!
If you would like to see these webs for yourself, visit Lake Tawokoni State Park or give them a call at 10822 FM 2475, Wills Point, TX 75169 (903) 560-7123
Lake Tawakoni State Park is a 376.3-acre park in Hunt County with 5.2 miles of shoreline along the south central shore of the reservoir's main body. The park operates the 36,700 surface acre reservoir and Iron Bridge Dam on the headwaters of the Sabine River.
A special mention to Sonya Fenton, who was very knowledgeable and a pleasure to work with 'thank you, Sonya!'
You'll notice all the bugs captured within the spiderwebs in many of the thumbnails below. Some look dark in color because of the number of insects collected!