Giant Sea Spider
Giant sea spiders spanning six feet in length and faster than one cares to imagine been found in the waters of Antarctica!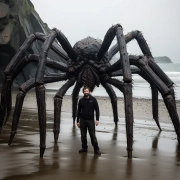 I had to verify the information when I heard about these giant sea spiders. The length of the spider is not six feet, but more like 1 foot, as in the picture above. Still, a 12 inch spider is enough to freak me out!
A project that spanned two months with a team of Scientists from Japan, Australia, and France recently obtained specimens from the waters off of Antarctica. They went more than 6,000 feet deep to collect these creatures and found that most specimens, including the giant sea spider, had never been seen before.
Led by the Australian Antarctic Division, the team reported that "Gigantism is common in Antarctic waters – we have collected huge worms, giant crustaceans and sea spiders the size of dinner plates," Australian scientist Martin Riddle, voyage leader on the research ship Aurora Australis, said.
Besides creatures like the sea spider, interesting findings included fish with unusually large eyes – very unusual for such a deep environment. Unless we find that these fish can actually see in pitch black which would give way to a whole new technology! We can see in the dark, but we need some light – down that deep, there is no light of any type. You can see that the sea spider is completely white.
All the specimens have been sent to labs for research and needless to say, we are all anxiously awaiting the results!