Spiders on Crack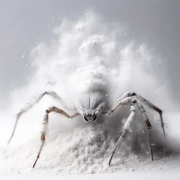 I must warn you that we did NOT create this "spider on crack video"! I have had an incredible number of people complain that I've harmed spiders which is not the case!
Some viewers find this video funny, while some find no humor in it at all.
A visitor expressed her feelings about giving a spider drugs in the video – I can assure you that no spider ever behaves in the manner presented in this 'spider on crack' video.
I highly doubt that they were given any such drugs.
Note: This video does contain some violence; A spider shoots another spider with a weapon, so viewer discretion is advised.